Back to Day 1: Fort Collins - Sterling Forward to Day 3: Julesburg - Ogallala, NE

Day 2: 18-Aug-2002 Sterling - Julesburg (map)
Today's distance       62.2 miles
Time moving:              5 hours, 15 minutes
Time stopped:             2 hours, 08 minutes
Ending elevation:      3444 ft
Max speed:             22.7 mph
Moving average speed:  11.8 mph
Overall average speed:  8.4 mph
Cumulative climbing:    608 ft
Cumulative descent:     851 ft
Total distance:       171.8 miles

Felt like a long day. Yesterday was quite exhausting, and I started today a bit stiff and sore. Breakfast at Village Inn, and afterward stopped to gawk and photograph the rubble of nearly an entire city block that had been destroyed by a huge fire a few weeks ago. The weather was cloudy, cool, with a slight tailwind as I headed NE on US highway 138.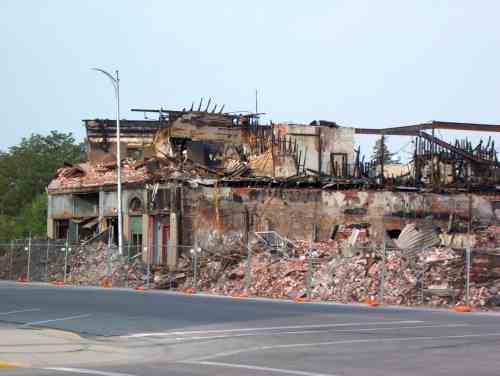 Fire damage in downtown Sterling.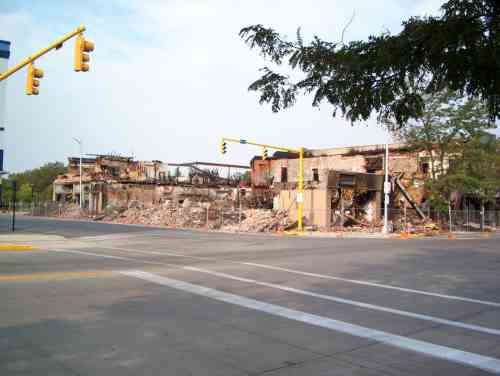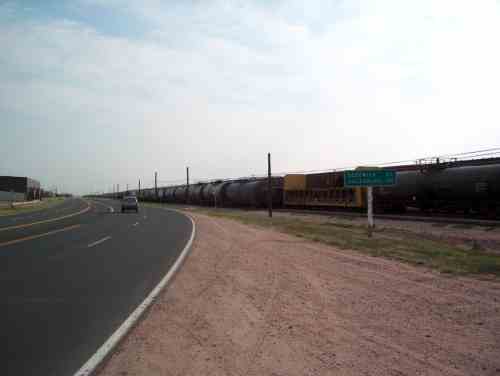 Leaving Sterling.

Just outside of town this road narrows to 2 lanes without much of a paved shoulder (and what does exist is laden with goathead vines flourishing in the cracks-- more about that later). But the traffic is very light and the line of sight is usually miles. Several times I rode 2-3 miles without seeing any passing vehicle. This road follows the north side of the South Platte River,, with I-76 on the other side, about 5 miles away. Most traffic going further than the next town takes the freeway, leaving route 138 quiet.

Yesterday I saw about 6 hawks, one of them caught, killed, and ate a small squirrel or chipmunk while I watched from a distance.

Again today I saw several hawks, watching for any hapless rodent to become a meal.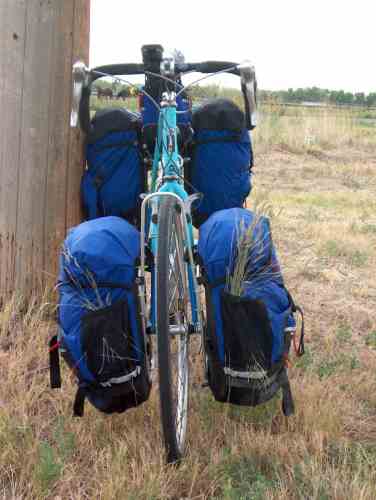 Plenty of blue grama for good luck.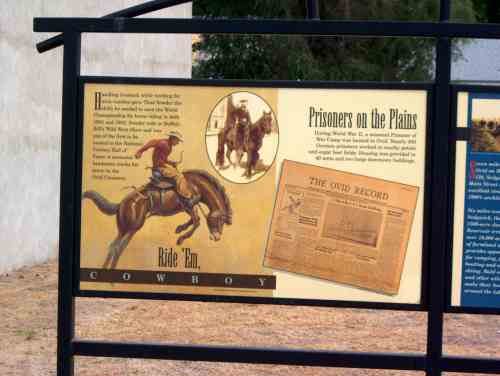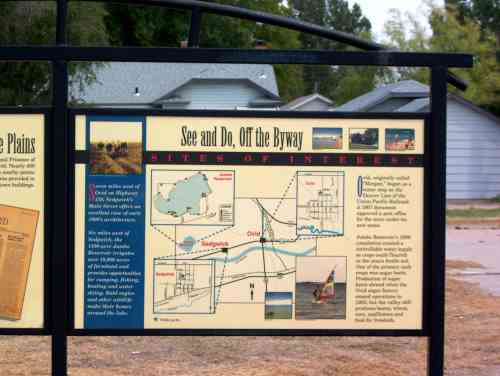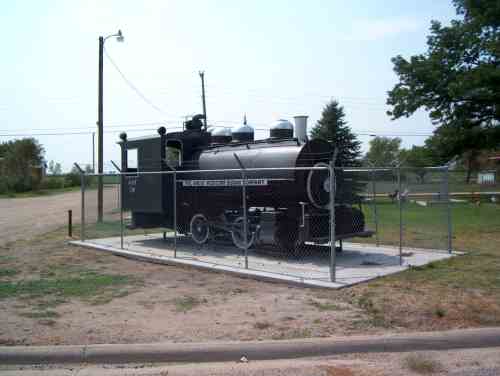 Steam locomotive in Ovid, near the park.


Several times today as I was rolling along I heard that tickticktick sound that means something is stuck to (or, worse, into) one of my tires: goathead burrs. Stop, pull it out, and hope for the best. At Sedgewick, I was ready for a rest and a bite to eat, so I pulled into town and found a small park. After a banana, some fig newtons, and a few other snacks, and a short nap in the grass, I was back on the road. Only made it a mile before getting that unstable swooshing feeling coming from my rear tire -- a flat. At this point in the road there wasn't a good place to work on the bike -- the ditch was full of thorns and burrs, no sideroads, and no shade, and it was getting hot. So I pumped up the tire and hoped it was a slow leak. This got me about 4 miles, to the outskirts of Ovid. Pump up again and ride into the town park, which had shade and a picnic table.

As I was working on the bike a beautifully done street rod (early 50's Dodge? -- I don't know my old cars very well, and this one had been chopped and modified quite a bit from whatever it started life as) rolled up and down the street. An old man walked by and sat down next to me. At first he didn't have much to say, but we struck up a conversation and chatted while I changed the tire. After about 1/2 hour of fixing and talking I was moving again, but not before stopping to take a picture of the old steam locomotive that used to work in the nearby, now-defunct sugar mill.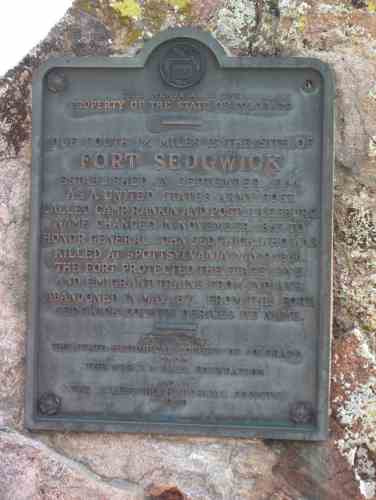 Near the old sugar mill in Ovid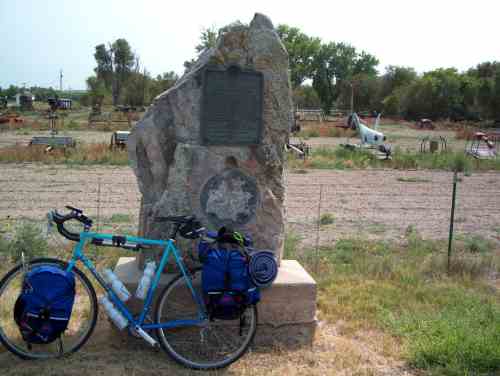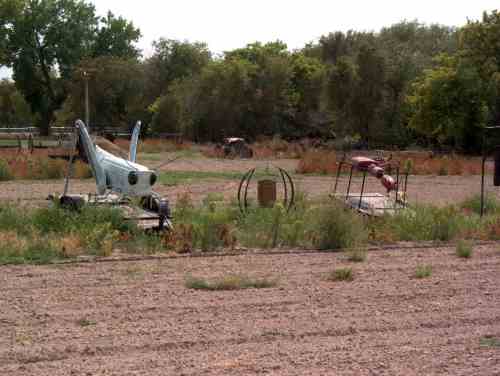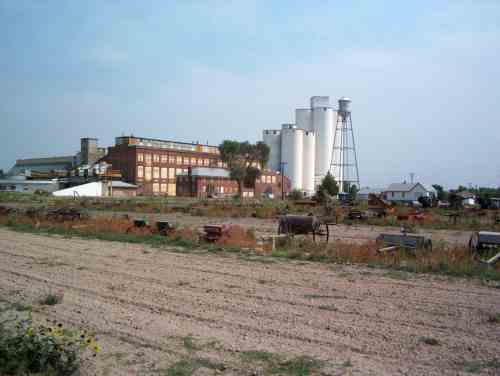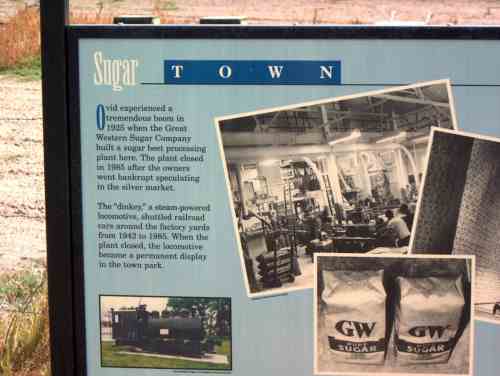 Signs describing this history of the sugar mills in Ovid.


Many of the towns along the eastern plains of Colorado have sugar mills. Sugar beets were once a predominant crop in the sandy soils in the Platte valley. If you know where to look around Fort Collins you can see one legacy of the now-gone mill there: waste lime deposits. Along the Poudre Trail, between Lemay and Timberline are deposits about 10 feet thick where lime, used in the processing of beets into sugar, was dumped after it was spent. Only a few mills still operate, but those that do are large operations. The mill in Ovid hasn't operated in 17 years, but still stands (and has undergone some work in recent years, such as boarding up windows). Recently the existing mills have been struggling because of a combination of very low sugar prices and poor local beet production.

Signs outside of Julesburg.


From Ovid it was 7 miles to Julesburg, which has several motels (I certainly picked the worst) and a grocery store. Checked in, walked to the store, and took it easy for the rest of the day. Tomorrow - Ogallala or North Platte.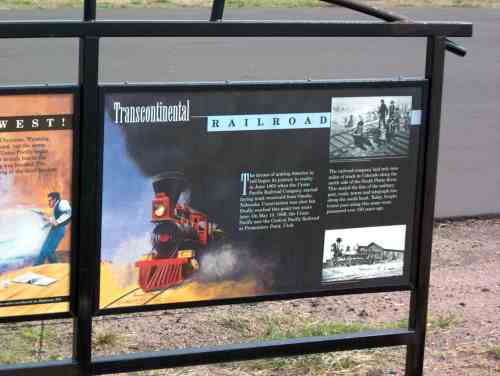 Back to Day 1: Fort Collins - Sterling Forward to Day 3: Julesburg - Ogallala, NE