Back to Day 5: North Platte - Broken Bow Forward to Day 7: Broken Bow - Spalding

Day 6: Rest day in Broken Bow.

I woke up this morning at 5:30 and it didn't take long to decide to take a day off. My pace has been just as I had hoped and planned, and part of that plan was to spend a few days along the way. Broken Bow is a nice little town, with a small park making up the central square of downtown.

Yesterday I mentioned knee and ankle pain. The knee pain is chronic, and will always be something of a problem with me. But this ankle pain is something that I have had before -- during high school football -- an it is tendentious in my achilles tendon. It is a pain I wouldn't wish on anyone. This morning I felt that pain, and I can feel the tendon rubbing against the tissue that forms the sheath that it moves through with every step or pedal stroke. Anytime I flex my right ankle I feel this rubbing/grinding sensation. If this gets worse I may have to abandon the trip. So I'll give it a day's rest, and make sure my shoes and saddle are adjusted correctly.

Also this morning it was cloudy, damp, and stiff easterly wind was blowing. All signs point to rest day.

After breakfast I walked downtown and stopped at the Chamber of Commerce office and asked about towns, campgrounds, and roads along my route. Then to the library to check email and post an update on the wwwboard. Across the square from the Chamber of Commerce was the Custer County Historical Society museum. It is a small, storefront museum, with lots of artifacts about early pioneer life, as well as many paintings by local artists on display and for sale, and a library in back in which a handful of folks were sifting through documents. Had lunch in the City Cafe, and walked past the courthouse, learned the story behind the name of the town, and thought about the irony of the land being "donated" by Mr. Gandy.

After my little hike I went back to the motel, and upon arrival discovered I was missing the key to my Kryptonite lock. Damn. I had clipped it to my camera bag, which I carried with my on my walk around town. I haven't used the lock yet, but I have been carrying this 2-pound lump of steel around with me, and would like to have it in case it becomes necessary. So I backtracked the entire walk, stopping at every place I could remember visiting earlier in the day, but never found the key.

Toss lock in trash.

I spent some time resting, watching TV, and doing minor repairs and adjustments on the bike. For dinner, I walked to the Tumbleweed cafe, and was treated to a spectacular hailstorm and torrential downpour during dinner. After dinner walked to a couple of stores and bought some food for tomorrow, then retired to the motel, watched TV, and went to bed.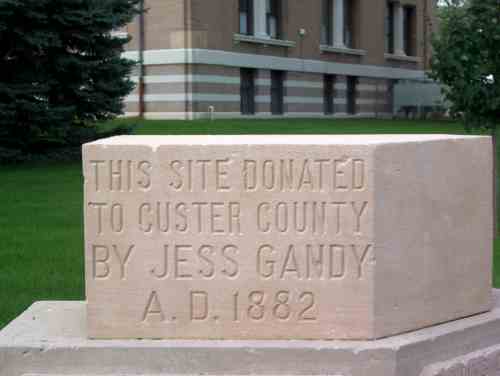 While it was mighty generous of Mr. Gandy to donate this site to the county, sometimes one has to wonder what the prior owners might have thought about this. I couldn't help but think about Sarah Vowell's trip describing her drive along the Trail of Tears, originally told on This American Life, and transcribed in Take the Cannoli.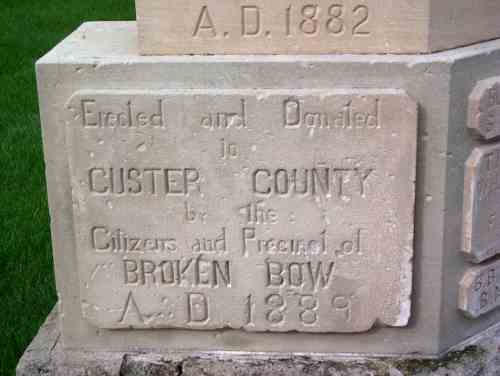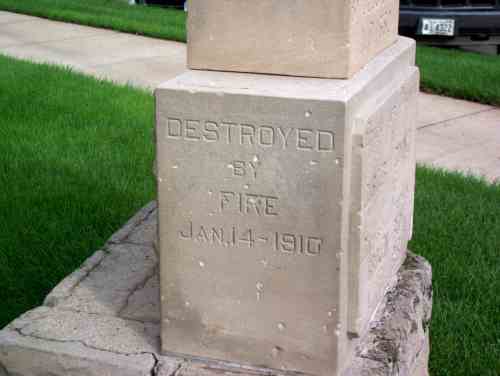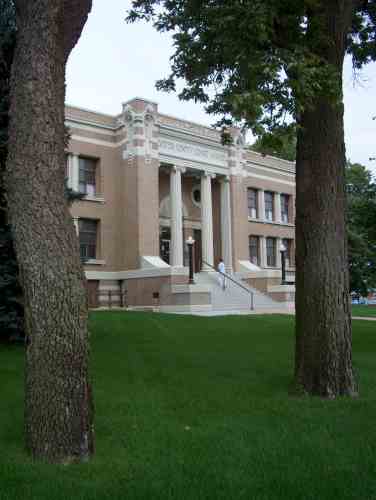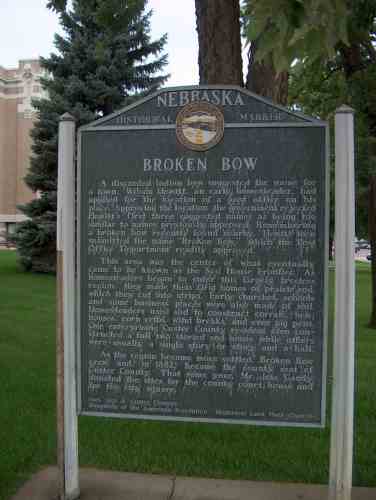 The story behind the name. Click on the picture for a legible version.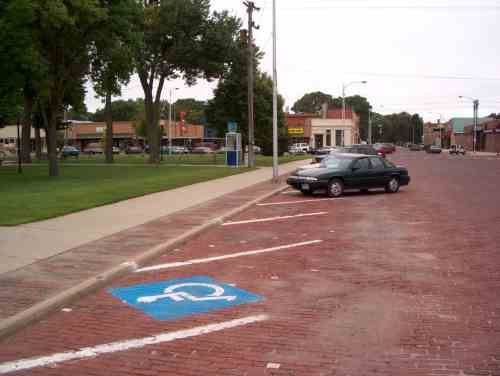 The streets in downtown Broken Bow are paved with bricks.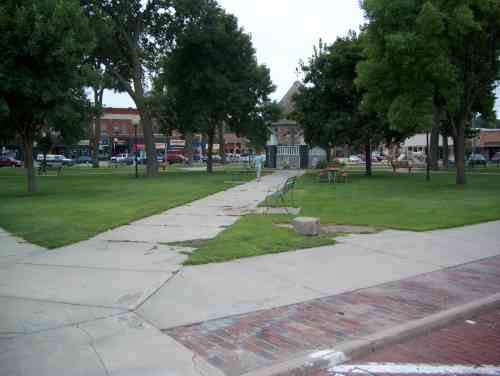 The town's central square. It is quite a nice little downtown, typical small-town USA.





Back to Day 5: North Platte - Broken Bow Forward to Day 7: Broken Bow - Spalding