Back to Day 3: Julesburg - Ogallala, NE Forward to Day 5: North Platte - Broken Bow

Day 4: 20-Aug-2002 Ogallala - North Platte (map)


Today's distance       55.3 miles
Time moving:              5 hours, 16 minutes
Time stopped:             1 hours, 48 minutes
Ending elevation:      2888 ft
Max speed:             18.6 mph
Moving average speed:  10.5 mph
Overall average speed:  7.8 mph
Cumulative climbing:   1673 ft
Cumulative descent:    1989 ft
Total distance:       270.0 miles

A better day today -- less knee pain, but more wind. Made it to North Platte by very early afternoon, and could have gone further, but decided that with the brutal (25 mph, gusting to 40) winds and a major decision to make about my route, I decided to stay here.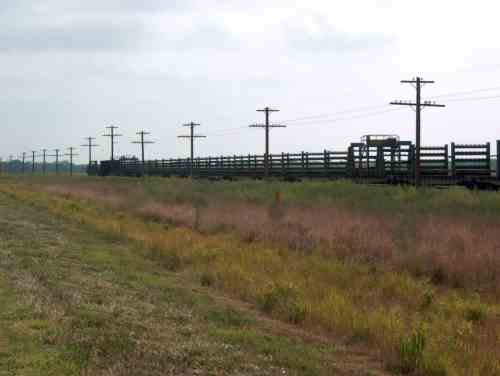 The old joke is that the state tree of Nebraska is the telephone pole. This strange looking train is a carrier for rails. This one only had a couple of rails on the bottom row, but I have seen these with rails stacked to the top. The rails are manufactured several hundred feet long and shipped on these special trains.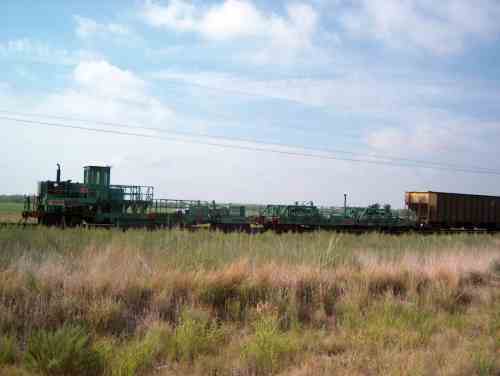 Some kind of special railroad equipment. Not sure what it is.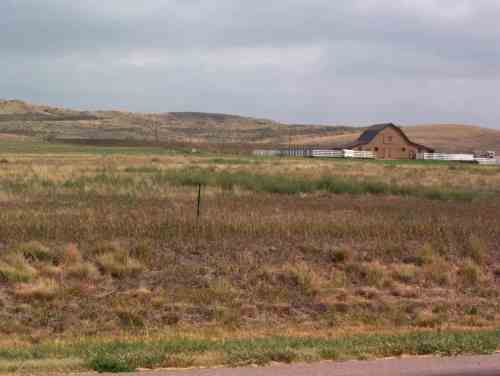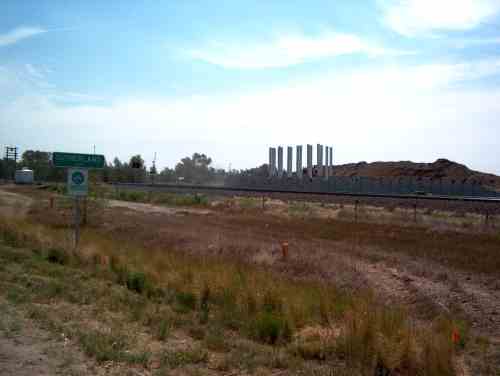 Building an overpass across the railroad in Sutherland, NE.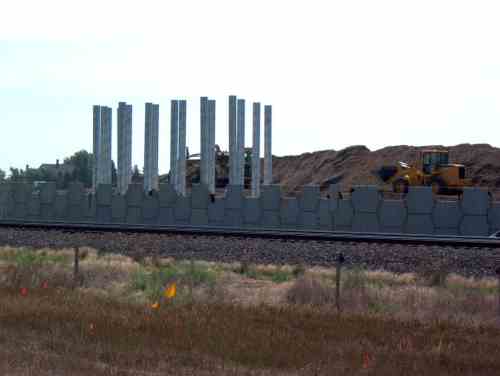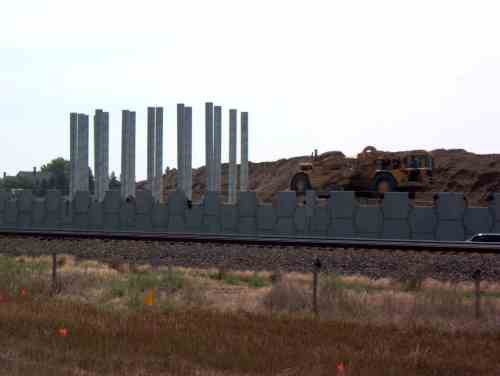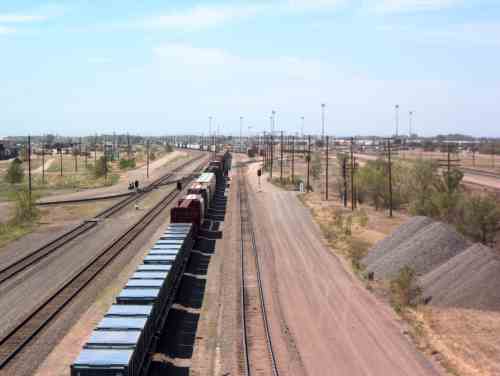 This is from the Buffalo Bill Ave. bridge over the railroad in North
Platte.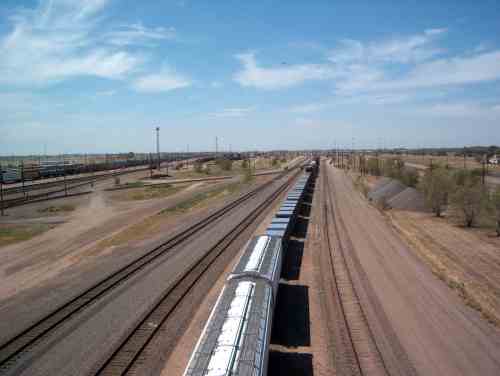 North Platte is home to the world's largest railroad switchyard. Only a few streets have overpasses, and there are no grade-level crossings. I counted 22 sets of tracks underneath the bridge which carries Buffalo Bill Avenue across the switchyard, and there are many, many more tracks at the widest part of the yard a mile or so to the west.



Since Sterling my route has followed UP tracks, often within a few hundred feet of the road. Beginning at Julesburg, the tracks are the main UP east-west route, and the site of the original transcontinental railroad. The double tracks often had trains passing every few minutes, atravelingt speeds I estimated to be about 60 mph. However, sometimes the train traffic gets backed up and there will be trains parked, going nowhere, millions of dollars worth of goods not moving.... many of the engineers have waved and given me a little greeting.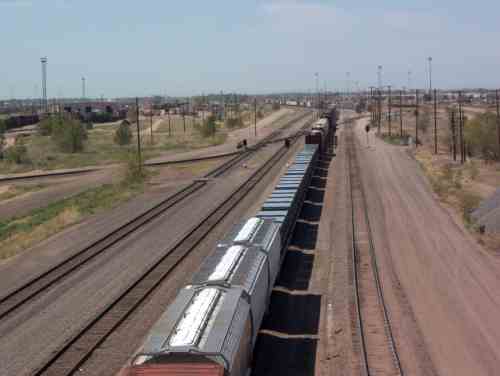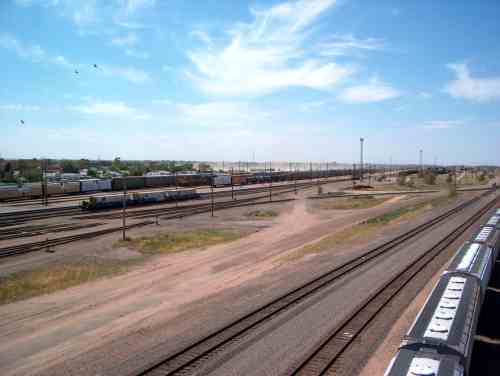 See the dust? By the time I got to North Platte it was ferociously windy, from the south. Flags were standing straight out, and it was making cycling a chore. Looking at the full-sized version of this picture shows the dust well.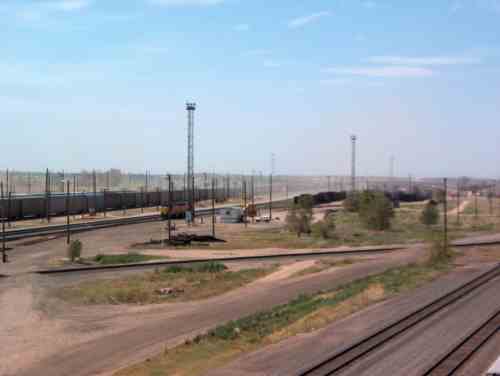 Most drivers have also been courteous, friendly, and safe. The number of friendly waves, "thumbs up" and wide passes have vastly outnumbered the few who pass unsafely or crowd me. Since Ogallala there have been wide paved shoulders which have been smooth and free of goatheads and debris. The stretch of US 30 from north of Big Springs to Ogallala had no shoulders, and was somewhat hilly, but light traffic made riding reasonably safe.

One notices all kinds of things while bicycling that just pass by unnoticed in a car. Money, wildlife, so many nuts and bolts laying around that one must wonder what holds all these vehicles together. The stretch of US 30 west of Ogallala was paved with concrete, and along the edge of the pavement, about every 50 feet, a number is stamped into the concrete. 78 ... 79 ... 80 ... on and on. Must be some kind of survey information [After the trip, I looked this up, and a "chain" is 66 feet, and a common measurement used in surveying].

After spending the last three nights in cheap motels (The one in Julesburg was a true fleabag) I found a nicer place (Quality Inn), which had amenities like fixtures not encrusted with scale and lime, and a swimming pool, hot tub, and a bar. A shower, soak in the hot tub, and a few laps around the pool worked wonders. Then a nap and a 32 ounce Fat Tire completed an afternoon of R&R. I went to the hotel bar and sat down at an empty seat and struck up a conversation with the fellow next to me. It turns out he was a traveling salesman from Marshfield, Wisconsin. I told him where I was going, and he seemed mildly interested. We also talked Packer football for a while, and I eventually discovered that he knows some of my relatives -- their name is Zepplin. They are from Schofield, and he said he used to go Square dancing with some of them. Small world.




Back to Day 3: Julesburg - Ogallala, NE Forward to Day 5: North Platte - Broken Bow